New Jersey Gutter Installation Contractor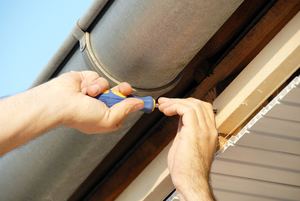 New Jersey gutter installation is just one of the many services we provide to builders and traders in our service areas. Gutters are there to do more than keep the roof from dripping on people that enter and exit a building. They're an integral part of the roof, working together with the rest of the system to safeguard the building from damaging rainwater. Let Feher Home Solutions help you ensure your project is properly equipped with the right gutters by choosing our contractors for your New Jersey gutter installation needs.
Feher Home Solutions has a special gutter division The Gutter Men, dedicated to serving all your gutter and gutter protection needs, from gutter installation to repairs. You can rely on our New Jersey gutter installation specialists to get the job done on time and within budget, ensuring superior quality results at every turn.
When it rains, water runs down the roof and into New Jersey gutters, which then direct the water away from the building. Without gutters, rain would simply pour right off the edges of the roof! New Jersey gutters collect and redirect the water away from the house, eliminating damage caused by this constant dripping, splashing, and erosion. From wood rot to foundation problems and mold growth, gutters help prevent a whole variety of problems with New Jersey new construction projects.
To learn more about our gutters and the services our gutter division provides builders and traders throughout our service areas, call Feher Home Solutions, your New Jersey roofing contractor, today.
Our New Jersey Gutter Services for Builders/Traders Include:
Gutter Protection Systems
Gutter Installation
Gutter Repairs
If you are looking for a New Jersey Gutter Installation contractor, please call us at 973-335-6377 or fill out our online request form.