New Jersey Siding Installation Services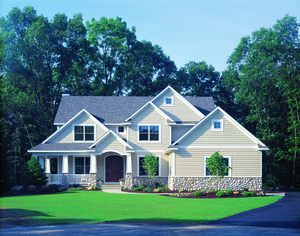 At Feher Home Solutions we know choosing siding for your project is important. We offer all types of siding for single-family homes, custom homes, subdivisions, multi-unit condominium projects, commercial, retail and medical and assisted-living buildings. We provide complete exterior installation for entire buildings as well as re-siding and siding removal for remodels and additions. Our seasoned New Jersey siding professionals will provide you with a fast and accurate proposal then expertly install your siding so your project stays on time and on budget.
If you are building a new home or renovating an existing building in New Jersey Feher Home Solutions has the siding installation and replacement options you need to take your project to the next level. We are preferred James Hardie remodelers and certified vinyl siding installers, offering builders and traders throughout New Jersey siding installation services and products that exceed expectations and "wow" the property owners. Call us today to schedule an appointment to visit our showroom to see our James Hardie fiber cement siding and various vinyl siding solutions, and see what our New Jersey siding installation contractors can do for your project.
Our New Jersey siding installation services include:
Vinyl Siding: This is the most popular maintenance-free siding option available. There are many styles and colors to choose from making it easy to create a beautiful yet affordable exterior.
Fiber Cement Siding: Fiber cement siding is available in a wide range of styles and colors to suit any type of project. It is fire and insect resistant and has a 15 year color finish for very low maintenance. Feher Home Solutions has been installing fiber cement siding for over 20 years and are James Hardie® Preferred Siding Installers.
Wood Siding: Wood siding is a contemporary yet classic building material, chosen for its beauty, versatility and durability. Among the options we offer for wood siding are bevel siding, tongue and groove, lap siding, board and batten and shake siding. We have found that cedar wood is often the most popular choice for wood siding in NJ.
Trim and Millwork: Many different options are available for trim and millwork services. Our options are made from aluminum, natural wood, cellular PVC and fiber cement. Trim and millwork also includes soffit, rakes and fascia, window and door casements, frieze boards, dentil molding, window panels, columns, pediments, window panels, corbels and more.
Stone Veneer Siding and Stucco Siding: Add a custom element to a project with stone veneer and stucco siding. It can be used in places such as around an entryway, as an accent wall or below the siding on the foundation.
Vinyl Siding Solutions – Affordable & Attractive
Vinyl siding is a one-time investment and has several benefits. The material has a long life, is relatively inexpensive, can be easily installed, and does not require much maintenance. Unlike wood, it does not deteriorate, warp, or decompose. It does not require repainting like wood and fiber cements and thus eliminates considerable waste and smog. Being light, it can be transported easily. It is non-toxic and environmentally friendly.
With the wide choice available in color, texture, and styles, the selection of the type of vinyl siding depends upon the New Jersey homeowner's design and its suitability to the weather changes. Our vinyl siding services include both siding installation and replacement.
James Hardie Fiber Cement Siding from the New Jersey Siding Installation Experts
James Hardie fiber cement siding allows you to create a beautiful, low maintenance home. Enjoy the beauty and character of wood, as well as resistance to weather, insects and flame spread. Additionally, James Hardie products feature a limited transferable product warranty for up to 50 years. No wonder it's protecting over 4 million homes in North America alone.
Some of our James Hardie Siding product include:
HardieShingle™ Siding – HardieShingle™ siding has the same warm, authentic look as cedar shingles, yet it doesn´t rot, crack or split. It´s beautiful as a primary siding or as a complement to other styles of James Hardie® siding. Our shingle siding panels come in a variety of decorative edges, and expedite installation in larger areas. Ideal for smaller coverage areas, HardieShingle individual shingles come in a variety of widths for an authentic handcrafted look. James Hardie siding products are available with a 30-year transferable limited warranty.
HardiePlank™ Lap Siding – HardiePlank™ lap siding is the most popular brand of siding in America and can be found on millions of U.S. homes. With its strength, beauty and durability, HardiePlank™ siding enhances and protects homes in all kinds of climates. It comes in a variety of looks and textures, all of which include PrimePlus® sealer and primer, which provide an excellent painting surface. HardiePlank™ lap siding comes with a 50-year transferable limited warranty.
HardiePanel™ Vertical Siding – For applications that call for vertical siding, HardiePanel™ vertical siding is equal to our lap siding in value and long-lasting performance. Because of its structural strength, HardiePanel siding may be used as a shear panel. When combined with HardieTrim™ planks, it can also help you achieve a board-and-batten look. All styles of HardiePanel siding are pre-primed with PrimePlus® sealer and primer. This proprietary process ensures uniform coverage of sealer and primer, providing an excellent surface for paints and also resisting fungus and mildew. HardiePanel vertical siding comes with a 50-year transferable limited warranty
If you are looking for a New Jersey siding installation contractor, please call us at 973-335-6377 or fill out our online request form.