Copper Gutters – long-lasting gutters for your New Jersey home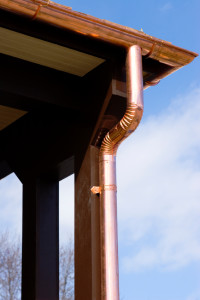 Whether you want to set yourself apart from your neighbors, or simply make an investment in a quality product that will save you money in the long run, copper gutters are simply the best option in performance and durability. Copper gutters have an elegant, sophisticated appearance and comes in a variety of styles. These gutters may have an expensive up front cost, however, they are known to last more than 80 years.
Long-term Investment
Minimal Maintenance
Quality Appearance
Environmentally Sustainable
Why Install Copper Gutters?
In addition to the increased home value and curb appeal, copper gutters are more durable and require less maintenance than aluminum or steel gutters. Copper gutters can withstand extreme weather, and unlike steel gutters, copper gutters won't rust and rot away. Instead, copper oxidizes and forms a coating that helps prevents further corrosion.
The natural coating is known as a patina which can be green or brown in color. It usually takes at least 6 years for a patina to form on your copper gutters, however, you can speed up the process with use of chemicals. You can also alternatively apply seal to gutters to maintain it's natural copper look. Due to the expensive cost of materials, it's best to leave the installation to the professionals.
Satisfied New Jersey Homeowners Who've had us Install Copper Gutters
Feher Home Solutions is Rated: 3 / 3
based on these 1 happy customer reviews.
---
"Feher Home Solutions replaced the entire roof on my home and garage 18 months ago. The house is a 130 year old Victorian. It required a complete tear off, wood sheathing repairs, new copper valleys and copper yankee gutters installed along with a 40 year GAF slateline shingle. The repairs were made in a complete fashion. They did an excellent job managing a flat roof, several mildly pitched roves and a steep gable roof. After 18 months, we've never had a leak and the appearance of the roof is beautiful. They were on-time, honored their price and the workmanship was excellent."

– John Garrison Mountain Lakes, NJ | Rated: 3 / 3
---
If you are looking for Aluminum Gutters in Northern New Jersey, please call us at 973-335-6377 to speak to a Customer Service Representative or fill out our online request form.