New Jersey Gutters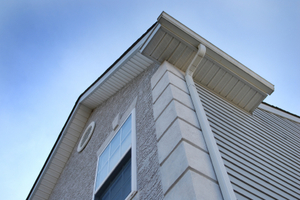 The Gutter Men, a division of Feher Home Solutions, are here to take care of all your home gutter and gutter protection needs in New Jersey. From permanent gutter protection systems that make gutter cleaning a thing of the past to installing beautifully styled aluminum and copper gutters, our talented New Jersey gutters team are ready to tackle all your home improvement needs. Our home gutter services include gutter installation, gutter repairs, gutter replacement, and gutter cleaning. Some of the products we offer include high quality, competitively priced copper gutters, aluminum gutters, and permanent gutter protection systems.
New Jersey Aluminum Gutters
All of our aluminum gutters are custom-rolled on-site to your home's exact measurements and are installed with all aluminum accessories to prevent rust. Gutters are rolled from heavy gauge .032 aluminum with a 20-year baked on enamel finish. Our New Jersey gutters are also installed with concealed hidden hanger brackets, and are complete with coordinating aluminum downspouts keep water away from your home's foundation and landscape. Many colors are available to match any exterior. Read More
Copper Gutters in Northern New Jersey
Copper gutters and downspouts can add instant value and architectural detail to any home. Copper gutters are available in 5" and 6" K or half-round gutter styles, and they coordinate with half-round or square copper downspouts and exclusive copper scupper drains. Copper gutters have been gaining in popularity in recent years for both new homes and remodeling projects.Read More

Gutter Repairs
The Gutter Men are on-call for small and large repairs when it comes to gutters. Dented gutters, crushed leaders, falling or sagging gutters and loose downspouts all can be repaired. We will give you an honest assessment of what you need done for your gutters. Our popular "Gutter Tune-Up" addresses the entire system and give it a tune-up that includes cleaning, re-pitching gutters, tightening hangers and straps and resealing miters. This tune-up ensures properly-working gutters. We are also affiliated with a pest removal service in case you have unwelcome critters such as squirrels or raccoons.
To find out more about the gutter services we provide homeowners throughout NJ, including our New Jersey gutter protection systems, call Feher Home Solutions today at 973-335-6377.
If you are looking for New Jersey Gutters, please call us at 973-335-6377 or fill out our online request form.