New Jersey Siding Contractor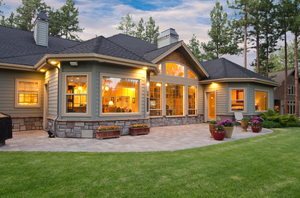 Siding has the ability to completely change the appearance of your New Jersey home. According to the annual Cost vs. Value Report published by Remodeling Magazine, approximately 85% of the cost of new siding is recouped in added value. At Feher Home Solutions, our New Jersey siding contractors provide popular options for exterior siding for homes in NJ including: vinyl siding, fiber cement siding, wood siding, stone and stucco siding. We also provide structural accents such as trim and millwork, perfect for bring your New Jersey siding project together. Available in a wide range of colors, styles and price ranges, you are sure to find the exterior home improvement solution you are seeking in our selection of New Jersey siding solutions.
New Jersey Vinyl Siding Solutions
Vinyl siding, made with polyvinyl chloride, is the most popular siding choice in New Jersey, as well as in America. The sky is the limit with color choices for vinyl siding, including traditional pastels, earthy tones, barn reds, hunter and sage greens and deep blues. The profiles for vinyl siding are also numerous, including horizontal and vertical panels, shakes, shingles, fish scales, traditional lap, vinyl Dutch lap and many more! As for maintenance, all this siding requires is a simple wash with a soft cloth and garden hose.
Fiber Cement from James Hardie® Siding
James Hardie® siding is made of a mixture of cement, sand and cellulose fiber, which forms a strong and durable product that is noncombustible, resistant to weather damage, and impervious to termites It is available in clapboard, stucco and other various patterns. It is also available with ColorPlus® Technology finish that is backed by a 15-year limited warranty that covers both paint and labor. Feher Home Solutions has been installing fiber cement siding for over 20 years and is a James Hardie® Preferred Installer.
Wood Siding Installation in New Jersey
Wood siding is a contemporary yet classic building material, chosen for its beauty, versatility and durability. Among the options we offer for wood siding are bevel siding, tongue and groove, lap siding, board and batten and shake siding. We have found that cedar wood is often the most popular choice for wood siding in NJ.
Stone Siding and Stucco Siding
These siding options are some of the oldest siding styles, yet both add a sense of permanence and luxury. Today's manufactured stone siding is lighter and more affordable than real stone, but looks remarkably real. Stucco is an enduring choice with beautiful color options and style choices. It also requires low maintenance.
Trim and Millwork – The Finishing Touches
These architectural elements can add character and uniqueness to any home. Among the options for trim and millwork are wide corner posts, window and door casements, window panels, dentil molding, band boards, window heads and columns.
Want to learn more about the services and siding we offer in New Jersey? Contact our New Jersey siding contractors at 973-335-6377. You may also find the following siding resources beneficial as you determine the type of siding you want to have installed on your home in New Jersey:
If you are looking for a New Jersey siding contractor, please call us at 973-335-6377 or fill out our online request form.