New Jersey Vinyl Siding Contractor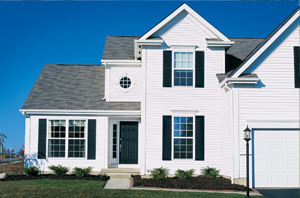 Vinyl siding brings beauty as well as high-quality protection for your New Jersey home investment. Vinyl siding is ranked as one of the top home siding choices for remodeling projects. We assure you that vinyl siding will tremendously help the sale of your New Jersey home. Selecting the right vinyl siding is where we come in as your professional siding contractor. One of the great reasons vinyl siding should be used is its strength against strong wind.
New Jersey Vinyl Siding Brings Solutions
Vinyl siding is the most popular siding choice in New Jersey and rest of America. A diverse range of color and profile selections such as horizontal and vertical panels, shakes, shingles, fish scales, traditional lap, vinyl Dutch lap, and many more! When it comes to maintenance, New Jersey vinyl siding requires only simple cleaning for long-lasting and affordable exterior siding.
Homeowners will get to know how durable, cost-friendly, and low-maintenance vinyl siding is. Vinyl siding comes in a variety of grains, thickness, and colors which proves its home exterior practicality. Vinyl siding can experience severe weather conditions with such a low-damage result. Modern vinyl is much stronger against past vinyl siding that has cracked. When sunlight is shining directly on your home exterior for a long time, vinyl siding will still maintain its look and durability.
New Jersey Vinyl Siding Contractors Provide
Vinyl Siding
Hardieplank
Siding Repairs
House Siding
Siding Installation
James Hardie Siding
Vinyl Siding in New Jersey
New Jersey Roofing Contractor
Siding Replacement
Siding
Roofing
New Jersey Vinyl Siding
If you are looking for a New Jersey siding contractor, please call us at 973-335-6377 or fill out our online request form.