Montclair Professional Roofing Contractors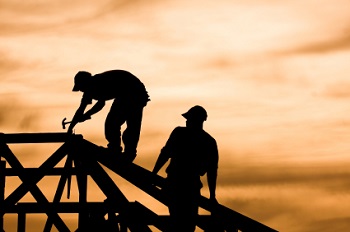 For over fifty years, the professional roofers and exterior remodelers at Feher Home Solutions have been providing the highest quality services to the Montclair community.  We are proud to be Montclair's one-stop-shop for all of its commercial and residential roofing and exterior remodeling needs.  Our primary goal in every project is to maximize your satisfaction through the quality of our professional roofing an remodeling services.
The exterior of your property is the primary defense your family has against inclement weather.  It provides your family with the security and comfort that they deserve to have within your home.  At Feher Home Solutions, we strive to provide the longest last roofing and exterior remodeling additions so that you and your family can enjoy this comfort and security for years to come.
Our Montclair roofers and remodelers all strictly maintain their professional licenses.  We are all highly trained, extensively experienced, and knowledgeable.  We have the skill to service all of your commercial and residential roofing and exterior remodeling needs.  We will work with you to get the job done quickly while remaining well within your budget.
Call us today if you are in need of roofing or exterior remodeling services. Our staff is here to help you with all of your Montclair exterior needs.  We are eager to answer any questions you may have about our services.  We can set up an appointment today. Our Roofing Contractor at Feher Home Solutions is your Montclair roofer.
Montclair Roofing Services
From installation to replacement, our Montclair roofers have the experience and skill to service all of your commercial and residential needs.  We can handle all manners of roofing task.  Here is just a short list of some of the ways we can improve your Montclair home or business:
Flat Roof Installations and Maintenance
Asphalt Shingle Installation
Cooper Roofing Services
Roofing Repairs
Roof Replacements
Gutter Services
And more
In all of our roofing services, we will work with you to install the roof that makes your Montclair property look how you want it.  By installing your roof with the finest technique and methods, we guarantee that it will provide your Montclair property with the protection it deserves for years to come.
Montclair Siding and Window Replacements
Our exterior remodelers provide the highest quality, most reliable services in the Montclair community. We have the skill and knowledge to handle all of your exterior remodeling needs.  Our professionals are adept at all siding and window replacement services including the following:
Vinyl siding
Fiber cement siding
Hardplank siding
Energy efficient windows
Vinyl windows
And more
As with our roofing services, we guarantee the finest quality work in every project that we undertake.  We are confident that your family will love the additions to your home and that this enjoyment will last well into the future.

Montclair, NJ
Recent Articles
Hiring a Sussex County Roofer

There are about as many roofing contractors to choose from as there are doctors, and I suggest you take the same care in choosing your Sussex County roofing contractor as you would your doctor. While it's clear that you are going to want a roofing contractor that employees capable installers, and it's clear you will...

Read More
The Importance of New Jersey Vinyl Siding

New Jersey vinyl siding is to a house as skin is to the human body. Siding protects the house against the elements and pests. It helps prevent moisture penetration and the growth of biological contaminants such as mold, dust mites and bacteria. These 3 types of biological contaminants have been known to cause allergic, respiratory, and...

Read More
If you would like to learn more about Feher Home Solutions in Montclair, please call us at 973-335-6377 or fill out our online request form.