Passaic County Roofing Contractor & Home Improvement Specialist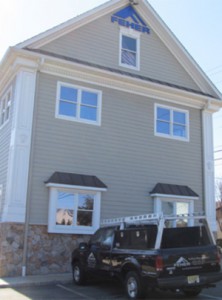 Since 1963, Feher Home Solutions has been providing homeowners, builders and property managers throughout Passaic County County, New Jersey with quality products and services for all their home improvement needs, all at a fair price. We understand your Passaic County home is the biggest investment you will ever make. Let us help you make the most of your investment with our roofing, siding, and other exterior remodeling services. As a licensed and insured Passaic County roofing contractor and exterior remodeling specialists, we will take absolute expert care of your property.
Our Passaic County roofing contractor and home improvement firm is a member of the Better Business Bureau and a New Jersey licensed contractor (NJ License #13VH01543300). We are certified specialist that have the skills, experience, and resources to ensure your roofing or exterior remodeling project is completed on time and within budget. Call us today to learn more about our services and products. Our Roofing Contractor at Feher Home Solutions is your Passaic County roofer.
Places in Passaic County, NJ We Do Business:
Bloomingdale | Clifton | Haledon | Hawthorne | Little Falls | Great Notch | Singac | North Haledon | Passaic | Paterson | Pompton Lakes | Prospect Park | Ringwood | Totowa | Wanaque | Haskell | Wayne: Packanack Lake | Packanack Lake | Pines Lake | Preakness | West Milford | Cooper | Hewitt | Macopin | Newfoundland | Oak Ridge | Woodland Park
Passaic County Roofers
Reliable and honest Passaic County roofers are hard to find, we know. But with Feher Home Solutions just a phone call away, you can put your roofing worries behind you. From ensuring proper gutter systems and gutter protection are installed to make your roofing system a stronger and more reliable to providing routine maintenance, inspections and roof repairs, Feher Home Solutions is the Passaic County roofer you can rely on to take care of your roof.
Passaic County Roof Repairs
Our Passaic County roofing contractors are experts when it comes to roof repairs. Our certified professionals work diligently to make sure your roof is structurally sound and safe, protecting you and your property from the outside elements properly. If you need roof repairs in Passaic County call our roofers.
Passaic County Siding
Passaic County siding installation and repairs are another type of home improvement service we offer at Feher Home Solutions. If you are interested in Passaic County siding options, call us to learn more. We carry a wide selection of siding materials including wood, fiber cement siding from James Hardie, vinyl siding, and more.
Passaic County Replacement Windows
We also carry a beautiful array of Passaic County replacement windows known for their energy efficiency ratings and ascetic appeal. We'd love to take you on a tour of our showroom and show you all our replacement windows as well as the many other home improvement products we have to offer. Contact our New Jersey roofing contractor and home improvement firm to schedule an appointment to view our showroom or to further discuss your project in Passaic County, NJ.

Passaic County, NJ
Recent Articles
The Importance of New Jersey Vinyl Siding

New Jersey vinyl siding is to a house as skin is to the human body. Siding protects the house against the elements and pests. It helps prevent moisture penetration and the growth of biological contaminants such as mold, dust mites and bacteria. These 3 types of biological contaminants have been known to cause allergic, respiratory, and...

Read More
Hiring a Sussex County Roofer

There are about as many roofing contractors to choose from as there are doctors, and I suggest you take the same care in choosing your Sussex County roofing contractor as you would your doctor. While it's clear that you are going to want a roofing contractor that employees capable installers, and it's clear you will...

Read More
If you are looking for a Passaic County roofing contractor or exterior remodeling services in Passaic County, NJ please call Feher Home Solutions at 973-335-6377 or complete our online request form.