Union County Roofing Contractor & Home Improvement Specialist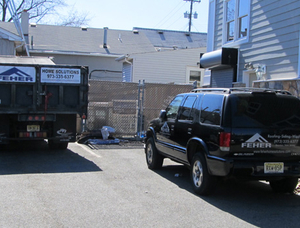 Feher Home Solutions is the licensed and insured Union County roofing contractor and home improvement specialist you can rely on for all your exterior remodeling need. From roofing to siding, replacement windows to gutter protection systems, we can transform the exterior of your property to not only be more appealing and valuable, but energy efficient and able to withstand the crazy weather we get here in Union County, NJ. Let our Union County roofing contractors and exterior remodeling specialists help you with your project, and experience service at its best! From solid guarantees to expert workmanship and customer support, you are sure to fall in love with our Union County roofing company.
Our Roofing Contractor at Feher Home Solutions is your Union County roofer.
Feher Home Solutions Provides Roofing & Home Improvement Services to these Cities in Union County, New Jersey:
Berkeley Heights | Clark | Cranford | Elizabeth | Fanwood | Garwood | Hillside | Kenilworth | Linden | Mountainside | New Providence | Plainfield | Rahway | Roselle Park | Roselle | Scotch Plains | Springfield | Summit | Union | Westfield | Winfield
Union County Roofers
Do you need a reliable Union County roofer for your residential project? From roof repairs to roof inspections, new roof installation, and a variety of classy, high-quality – yet affordable! – roofing products, Feher Home Solutions is your source for a wide range of roofing options in Union County, NJ. We are the preferred Union County roofer for tile roofing, metal roofing, asphalt roofing shingles, and so much more. If you have a roofing service need, give our talented, licensed and insured Union County roofers a call today to get started!
Union County Roof Repairs
There are many different options for Union County roof repairs depending on the type of roofing system installed. Take, for examples, a flat roofing system versus a traditional pitched roof with asphalt shingles. These two roofs will require different Union County roof repairs. Both will require timely maintenance, but flat roofs generally require cleaning in preparation for roof repairs in Union County. If there is wet insulation under the membrane, it will need to be removed and replaced. If there is damage to the beams or structure it is fixed at this time. Afterwards, a new surface is installed, and depending on the damages, your Union County roof repairs specialist many suggest a total replacement. If there are only certain areas that need attention, it will be done by cutting out the old and replacing it with new layers and coatings. Elastomeric coatings are used for the superior expansion characteristics of flat roofs, making them more durable during episodes of extremes in temperature or heavy rainfall. Whether you have a flat roof or roofing shingles, Feher Home Solutions offers quality roof repairs in Union County, New Jersey.
Union County Vinyl Siding & Fiber Cement Siding from James Hardie
The most common of all exterior siding widely used in today's construction industry is vinyl siding or fiber cement planks. Each siding material has its strengths and different styles. The strongest out of these is fiber cement board or planks. Fiber Cement siding, particularly from the James Hardie brand, is perhaps the most innovative and durable siding material ever invented. The list of benefits to using this type of siding is long, and homeowners as well as property managers and builders in Union County, NJ will find this type of exterior siding well worth the investment. New Jersey siding composed of Fiber cement is impervious to insect damage, as well as, being a noncombustible material so it will not feed a fire the way other materials will, and are rot resistant. Not only is it flame retardant and highly durable, but it can still imitate the look of real wood siding. The available styles, look, and texture of fiber cement siding provides a real wood or even brick facade, without the maintenance expense or need for replacement down the road. Should a homeowner desire the look of real wood siding or wood shingles, this Union County siding will fulfill the requirement. A brick textured fiber cement siding has similar properties with one exception: with the use of real brick, mortar joints over time will decay and will require repointing to restore the original look. The cost of fiber cement siding is much higher than vinyl or metal siding, although it is far superior. If you are interested in learning more about the Union County siding options Feher Home Solutions offers, including siding installation, replacement and repair services, please call our Union County siding contractors today at 973-335-6377.
Union County Replacement Windows
If you want to really make an impact on your home's exterior and interior appearance while on a budget, you should really consider investing in quality Union County replacement windows. At Feher Home Solutions we provide a wide selection of replacement windows in Union County, NJ that are not only attractive and will increase the value of your property, but will ensure you improve your home's energy efficiency, too! Union County replacement windows are one of the most solid home improvement investments you can make at this time. Not only will they make your home look better, but with the money you'll save year after year from the increased energy efficiency, you'll find that our Union County replacement windows pretty much pay for themselves.
Feher Home Solutions is a New Jersey roofing contractor and home improvement firm. We provide roofing services as well as vinyl siding, replacement windows, gutters, gutter protection, and more to homeowners, building contractor, and property managers throughout all of Union County, NJ.
Recent Articles
Hiring a Sussex County Roofer

There are about as many roofing contractors to choose from as there are doctors, and I suggest you take the same care in choosing your Sussex County roofing contractor as you would your doctor. While it's clear that you are going to want a roofing contractor that employees capable installers, and it's clear you will...

Read More
Roof Repairs – How to Avoid Them & When to Get Them

By now, most New Jersey homeowners realize how important it is to take proper care of their rooftop. Your home is your biggest and most vital investment. Your roofing is what helps keep your home protected from the elements, including the people and property inside. Making it a point to get your repairs addressed in...

Read More
If you are looking for a Union County roofing contractor or exterior remodeling services in Union County, NJ please call Feher Home Solutions at 973-335-6377 or complete our online request form.